11 Sites Like eBay: A Collection of eBay Alternatives
Can't find what you want on eBay, or looking for somewhere else to sell your products? There are plenty of sites like eBay available (for both buyers and sellers).
eBay started in 1995 as a simple place to bring buyers and sellers together and is an Internet success story. Since then, eBay has added buy-it-now and store options to make it the most popular online auction website available, where you can find anything from clothing and games to air guitars and love potions.
Many sites like eBay focus on reducing your selling expenses (both listing fees and selling fees). However, one common issue with eBay is the associated selling fees that cut into your profit margin. My dad loves to sell things on eBay regularly but after listening to him complain about fees, I decided to track down some alternatives for him (which you'll find below). He now sells across a number of sites which has helped him branch out and remove his dependence on eBay as a selling platform (he couldn't be happier).
Stop by the comment section to share your favourite auction website.
11 Sites Like eBay
Other Merchant & Auction Websites
1. eBid
eBid allows you to buy easily and sell anything and is the best eBay alternative. eBid currently accepts sellers in over 20 countries but allows buyers from over 100 different countries.
eBid offers its own PPPay payment method but does also support PayPal, Moneybookers, and Google Checkout. On eBid, you can list any basic auction for free, meaning you are only charged if you make a successful sale. eBid offers a number of membership levels: Buyer (free), Seller (free with verification), and Seller Plus (with an annual fee which allows you to set up up to five stores and unlocks a number of other premium features to make selling easier).
If you are looking to grow your online business, then try out eBid. It's also great for buyers, with an average of over 5 million listed sales live at any time.
eBid offers country-specific listings for nearly two dozen countries, including the US, UK, Canada, Australia, New Zealand, Italy, Singapore, South Africa, India, Ireland, France, and many others. eBid also offers continental networks to ensure that everyone around the globe can buy and sell.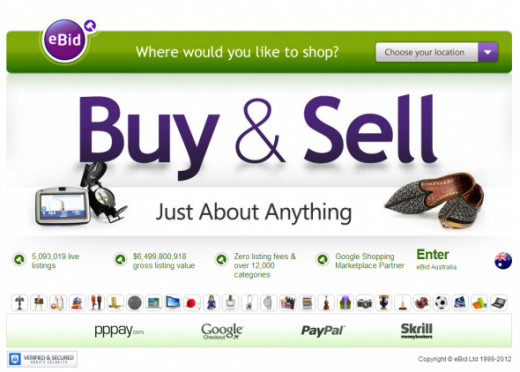 2. Overstock
Overstock has grown into a successful online retailer since it began in 1999. It originally focused on selling surplus stock at less-than-wholesale prices but has recently added their own merchandise to make them more of an Amazon-style website.
Overstock no longer allows users to sell on their website (a feature they retired in 2011) but is still a great place to find products at bargain prices. It was ranked 2nd in the US for best customer service (2010), something they have continued to strive towards. The support team behind Overstock is one of the best.
If you use eBay to find bargain products, then this site is worth checking out.
3. Shopify
If you are an experienced eBay seller but fed up with the fees, thenShopify is the alternative you've been seeking. There, it is extremely easy to create a professional storefront with all the features you need for success.
Select from hundreds of professional templates that can easily be customised to give your store its own personality. Shopify is much more than a beautiful storefront, though, you've got all the data you need to make important decisions, track everything from visitors to purchases, and even track abandoned orders to understand how your visitors use your store and optimise your conversion rate. Shopify even lets you create gift card and coupon codes so you can have regular promotions with ease.
Stop giving your profits away to eBay and venture into eCommerce for yourself with a professional Shopify store packed with features.
4. 3dcart
3dcart is another option to create your own eCommerce store. 3dcart has different plans depending on the maximum number of products you can sell which does help the small sellers start out with a cheaper option than they might get elsewhere.
With your 3dcart subscription, you'll get a great range of benefits including the ability to accept a wide range of payment options (without ongoing transaction fees that some other sites use), an easy-to-alter template, 24/7 support, and even tools to make shipping easier.
If you want to take your eBay selling up a step, then 3dcart an option worth considering.
5. CQuot
CQuot is a popular site that had a lot of success in the UK market and has now started expanding out into the US, Australia, Canada, and Ireland. If you call one of those countries home, then you're in luck. High traffic and competitive seller fees make CQuot a good option for buying and selling.
Fraud prevention has always been at the top of the list for CQuot, and it is definitely one of the top auction websites in this regard. You're bound to encounter less issues with CQuot than you would with most other websites which makes the experience more enjoyable. The one-time account setup fee helps to prevent fraud and protect your identity (and it is well worth it).
Sellers will particularly enjoy the ability to set a reserve price for their auctions. High traffic parts of CQuot include arts, electronics, books, and home, with all your standard categories also available.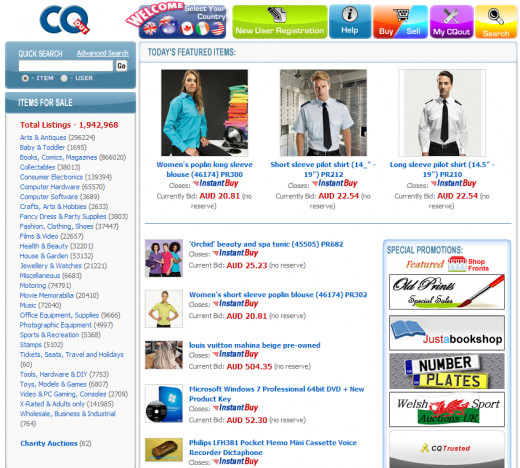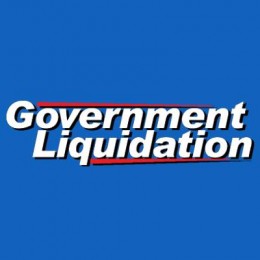 6. Government Liquidation
Government Liquidation is all about getting a bargain. By focusing on oversupplies, warehouse closeouts and more (with an obvious government theme). This includes things like unneeded clothing, materials, cars, trailers and everything in between.
The sheer number of variety makes Government Liquidation a great auction website to check from time to time to see what latest deals are available. While some items are unique one off sales the majority come in bulk which means you rarely miss out on an auction as multiple items are auctioned off at once.
Government Liquidation also has domestic shipping across the US and overseas (limited to countries close geographically to the US for all but the most bulky items. The most popular categories available include: aircraft parts, marine, computer, office, construction, machinate, scrap metal, plumbing, trucks, uniforms and field gear.
Unique to Government Liquidation is the ability to go and physically inspect all objects if you are in the area.
7. Quirky
The Quirky Shop is an interesting website that allows users to design their own products and vote on others' designs so that top ideas eventually get produced for sale on the website (with a revenue split for those who helped make the idea a reality).
Quirky has a large range of unique products perfect for gifts or use yourself. From a pivoting power surge board to better cable management or a futuristic dustpan, the Quirky range of products has something for everyone.
The website is also perfectly suited to people with product ideas that want to get their product out there on the market.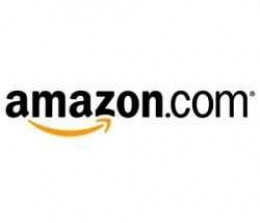 8. Amazon
Amazon is one of the most popular and well-known sites like eBay, a great alternative for buyers and businesses looking to grow their online presence.
Amazon started back in 1995 and has since expanded outside the United States to have separate warehouses (and websites) for a number of countries (most notably Canada and the United Kingdom).
Amazon's product lines include toys, baby products, sporting goods, health, beauty, clothing, groceries, DVDs, books, and consumer electronics. It now also offers e-book sales for the Kindle, Instant Watch movies, and MP3 downloads.
While Amazon has an extensive collection of products, nearly 50% are offered by third party sellers. Amazon's website also delivers reviews for each product from previous buyers allowing you to make the right decision on your next purchase. Its popularity, shipping options, and product availability make it one of the best sites.
9. Tophatter
Tophatter is a unique website that offers auctions and regular sales.
Tophatter has been gaining steam in recent years thanks to its extremely affordable product range that is provided by itself and a variety of businesses and wholesalers. This ensures massive price competitiveness and makes it easy to grab bargains or jump into the constant stream of sales to save even more money.
Tophatter offers millions of products, great buyer protection, and plenty of opportunities for free shipping, making it a strong option for online shopping.
10. DHGate
DHGate works in the business to business and consumer space, offering you direct access to countless factories. This ensures you'll get some crazy prices on a range of products from electronics to clothing and everything else.
By connecting you directly with factory outlets (often overseas ones), DHGate serves up some of the most competitive prices you'll find in online shopping.
It also promises to protect the quality of products you receive by carefully reviewing sellers and witholding your payments until you're happy with your product, which incentivizes the seller to deliver the best quality possible.
For cheap prices and many daily deals, you can't look past DHGate.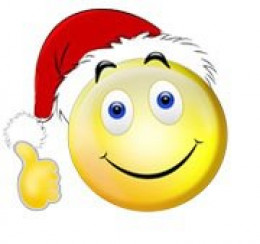 11. Happy Bid Day
Happy Bid Day has many similarities to Quibids, making it a great eBay alternative.
Happy Bid Day doesn't allow individual sellers but does allow approved business sellers. These listings from businesses are combined with Happy Bid Day's own products which you can bid on or purchase for a buy-it-now price (just like eBay). Because Happy Bid Day approves all sellers, you can be sure that they are legitimate businesses, making it one of the safest sites.
This site specialises in excess stock along with refurbished consumer electronics including home appliances, phones, laptops, and computers. If you are looking to get some low price consumer electronics in a safe and reliable environment, then consider browsing the collection of products available on the Happy Bid Day website.